We specialize in document management workflows
Our in-market SaaS product leverages our APIs for a truly unique experience around sensitive document management collaboration. We continually evolve our APIs to reflect the workflows and needs of today's demanding digital-first client.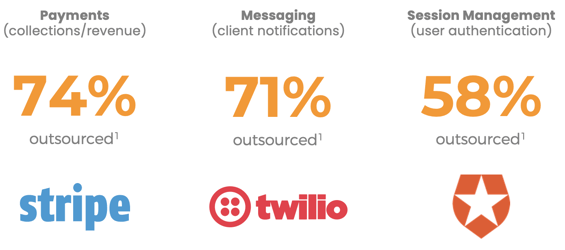 1 Auth0 report "The 2020 State of Application Assembly"
Mission critical, but non-core, functionality, is outsourced in the majority of cases
No developer will re-invent payments, messaging or authentication. Yet any document related functionality requires coding since neither AWS or Azure offer basic document management functionality.
Our APIs can save you 5,000 development hours
With built-in functionality across Compliance, Productivity, Multi-user management, authentication, and integrations - we can save you precious development hours so you can focus on your core product.
Complete plug 'n play infrastructure
Our platform was designed to be completely infrastructure agnostic, so you can choose your own tech stack, but still leverage off our document management workflows to save hundreds of precious developer hours
Connect your own user authentication or SSO to our platform and be confident of those who have access
Connect your existing user database to maintain full control over your users
Connect your own preferred cloud storage or VPC and let our APIs do the heavy lifting
Connect any email exchange platform to our APIs
We designed a more streamlined application and collection process for our referring customers from SideDrawer, making it easier for them to generate client referrals to us. We are very impressed with the efficiency of the API design leading to reduced administrative requirements for our mortgage brokers, creating a seamless and phenomenal user experience for the end client
- Gary Fooks, CEO of 8Twelve Mortgage Corporation